Islip Dentist
Joseph Morris, DDS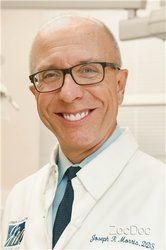 Joseph R. Morris, DDS has been in practice for over 30 years in the Islip, NY area. He earned his BS in Chemistry from State University of New York at Oneonta and attended NYU College of Dentistry, graduating in 1984.
Dr. Morris is also a continuing education addict, having studied with dental gurus such as Dawson, Spear and Kokich among many others. He is active in local study clubs and completed the prestigious NYU Continuing Dental Education (CDE) Implant program in 2012.
He stayed on at NYU as a Clinic Associate and is now an Associate Clinical Faculty member. Dr. Morris also helps to organize the lecture series for the Implant Program at NYU. Dr. Morris is committed to bringing in the latest technology in order to serve his dental patients with the highest quality care.
Away from the office, Dr. Morris sits on not for profit boards helping emotionally and physically disabled individuals live full and active lives. He lives in the Islip area and enjoys spending time with his three grown children. He is an avid golfer and scuba diver, and even makes an occasional appearance on stage as an amateur actor.
If you are looking for a dentist who is skilled in the latest treatment technology, who puts your comfort and needs first, call us to schedule your appointment with Dr. Morris today!